Scrapbooking transforms a box full of photos into a memorable work of art. Dedicated creators collect the tools of their trade, such as a Cricket, a machine that cuts letters and pictures from scrapbook paper to use their time efficiently, so they can focus on what is the most important, the images they are showcasing. The owner purchases dies (the cutting templates) to match their desired designs.  Shaped scissors for decorative edges, circle, square and other shaped cutters create the backdrops for the photos. Other items are circular punches, corner punches, shaped punches, stencils, stickers and rub-ons.  Found objects, such as scrabble letters, small Barbie toys, and actual artifacts from an event, like a ticket stub, can make a page unique and personal.
Scrapbooking for Busy Mothers.
This posting is about using free or inexpensive scrapbooking programs on the Internet to quickly and simply create scrapbooks. It is a trade-off between textural and 3-D elements and ease of use. Today's full tilt pace makes it impossible for me to spend the time going to through my pictures, much less cutting pasting, selecting elements, deciding on color theme, etc.
One day I decided to purchase the multiple picture frames that are so popular.  I love the homey way they look on a wall.  I enthusiastically pulled out a couple boxes of unsorted pictures–first problem.  By the time I had looked through the first half of the first box, I was exhausted.  Each picture I selected had to be cropped and sized to fit into the frame.  I shudder to think how long a scrapbook would take.
I am not crafty at all. I admire all mothers who can create fabulous scrapbooks.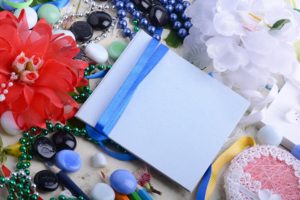 As soon as I took out scrapbook paper, the punches, some fun 3-D objects and decorative stickers, my two year old twins would swarm the area to "help" me.  The thought of spreading out all the materials, organizing them, using them and then putting everything away again is overwhelming.
Online Scrapbooking to the Rescue.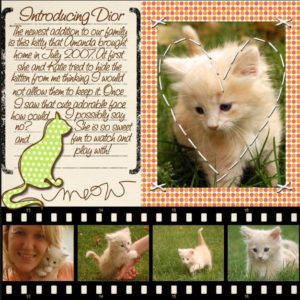 I added the digital option to my picture order when I had them printed, so I could access them on my computer when creating the scrapbook, so much simpler. The following are some of the more popular sites:
Smilebox– This is a very user friendly site that allows you to save individual projects and picture banks that can be used to create cards and scrapbooks. The choices of styles are limited, but the result is very attractive. It is inexpensive to share them electronically, but be prepared to pay, if you want to download and print.
Mixbook.com-The designs provided in this program are beautiful. The software is easy to use. The company will print the finished album. A simple 20 page album in a smaller size with a soft cover starts at $15.00. A 20 page traditional sized 12 x 12 album with a hard cover and dust cover is $75.00. Looking at the abandoned box of scrapbooking supplies I bought at a home party, I think it might be a bargain.
A Fresh Idea–An Album of Fun Family Selfies.
Take spontaneous photos with your children and you will find that there are many perfect settings that you just pass by each day–an interesting tree, the front of their school, the near-by park. Make them into cards to slip into their lunches, drawers, etc.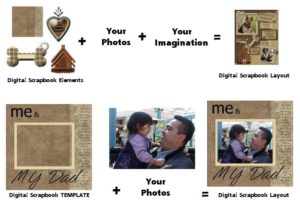 My New Favorite is Shutterfly's Program "Custom Path".  It is not free, but the resulting book is amazing.