Our neighbor is a plumber.  Last week when he was cleaning out his garage he made a pile of odds and ends of pvc pipe to take to the dump.  My kids were over there pestering him–of course.  They asked about the pile of pipes and much to my chagrin, began bringing all the pipes into the backyard.  Using the different sizes and shapes, they began to lay out patterns.  It was fascinating to watch.  My husband pulled out the glue he uses to fix our underground sprinkler system and the whole sculpture went 3-D.  I started wondering how play fits in with learning and child development.
When our children leave home for school, the whole dynamic changes. Now they are away from us for up to 40 hours a week, and when they are home, family time is often structured  to include homework and reading. With a stressful day behind both the children and the parents, relaxing for the rest of the evening by enjoying favorite TV shows feels like an ideal way to end the day.
This can leave little time for independent play time where students use their imagination to create the games, role play and meet up with other children.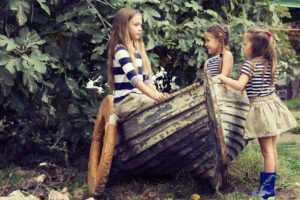 Depression and Anxiety Rising Among Children
Rates of depression and anxiety among young people in America have been increasing steadily for the past 50 to 70 years. According to Psychology Today, children's freedom to play and explore on their own, independent of direct adult guidance and direction, has declined greatly in recent decades.
Free play and exploration are, historically, the means by which children learn to solve their own problems, control their own lives, develop their own interests, and become competent in pursuit of their own interests.
When children do not have the opportunities to play on their own, away from direct adult supervision and control, they may be deprived them of opportunity to learn how to problem solve, how to negotiate, and how to innovate.
Structured and closely supervised play may not foster the pride in accomplishment and increase in confidence that the parents hope to encourage. Making their own discoveries can encourage children to learn and grow to satisfy their own curiosity, and prove to them that they are their own best teacher, if they are persistent.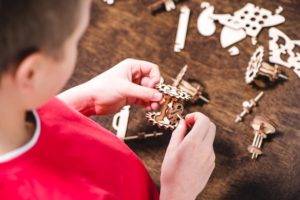 Recent studies show that oral language and the diligence and persistence to stick with a challenging task are predictors of future academic success.
Despite research to the contrary, there is a movement in our country that penalizes parents for allowing children freedom of movement within ones neighborhood.  The days of Timmy and Lassie heading out the door in the morning to return by supper are over in many communities.
U.S.A. Today reported April 15, 2015 that Danielle and Sasha Meitiv have been accused of child neglect for allowing their children to play at the park alone. The park is eight residential blocks from their home, which is located in a safe suburban area.  They also occasionally walked home from their school, located a few blocks from home.  The parents have been convicted of parent neglect and stand to lose custody of their children, if they allow them to "wander" alone again.
Arts and Crafts as Elements of Free Play
Another way to create open learning experiences at home, in the evenings and on the weekends is to set up open ended art projects.  Working with found objects the they create unusual and amazing sculpture.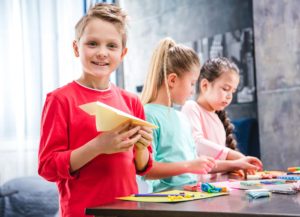 This helps the children develop logic, spatial awareness, and self-determination. Save up all the paper tubing, boxes, bottle tops, cartons and up-cycle them into a sculpture.
Using a hot glue gun or bottle glue, let the students make an shape or item they desire. When they are finished use a inexpensive can of golden spray paint and paint the final product. The final art piece will be amazing and one of a kind.
Take a photo of the children with their art, print it into a postcard and send it to loved ones. Upload it to Facebook, and let them see you post it. Move over some of your decor and feature the new art in a prominent location.
Next time the soccer ball goes permanently flat, take it partially apart and let them imagine something new. Throw some boxes, glue, tape, and/or markers into the backyard on a sunny day. Offer your cutting and spray painting talents, as they make a new house, neighborhood, kingdom or whatever else they may imagine.